Photo: Vancouver's North Shore mountains on January 26, 2012. Source: The Peak.
With today's weather being so beautiful and reports of the awesome snow pack on the mountains, we thought it appropriate to resurrect our popular "Snowshoeing Destinations" post from January 2012! Stay tuned for a new post highlighting some of the other awesome spots to snowshoe in the region.
---
You have to love those sunny, blue sky January days when you wake up to the sight of fresh snow on the North Shore mountains. How can you not feel inspired to get out of the city and into the snow? But if you're like me and you don't ski, what do you do?
Well, easy. You go snowshoeing.
Snowshoeing is the perfect way to get out and enjoy the local mountains. If you can walk, you can snowshoe, and it doesn't matter if you've never tried it before as there's practically no learning curve at all. All you need are some snowshoes (which you can rent) and an adventurous spirit! So whether you're a snowshoeing enthusiast or a total newbie, here are five snowshoeing destinations you ought to check out this season.
5. Hemlock Valley

Photo: Snowshoeing Hemlock Valley in 2007. Source: Duncan Creamer via Flickr.
Want to try high terrain snowshoeing? Get yourself out to the Hemlock Valley Resort. Situated east of Golden Ears between Mission and Agassiz, Hemlock Valley's a good choice for people looking for a leisurely or fitness-focused snowshoe trek in the Fraser Valley.
If you want to casually snowshoe through the mountains to soak up the scenery, they offer guided tour packages for under $40 which includes the trail pass and equipment rental. For a little more you can take the chairlift up to the top to trek around the alpine back country – the views of Harrison Lake (a freshwater fjord) are supposed to be spectacular. Or if you want something more fitness-focused, try one of their cardio-snow boot camps. Of course, you can also just trek around on your own.
My friend Raul Pachecho (aka: Hummingbird604) went on his first snowshoeing trek to Hemlock this past December and wrote, "This is like [being] in Vail, Colorado or in the Swiss Alps, but just in the backyard of Vancouver, BC!". You can read the rest of his snowshoeing experience here.
Hemlock Valley Tips:
4. Callaghan Valley

Photo: Snowshoeing in Callaghan Valley. Source: Alice L. via Flickr.
If the thought of snowshoeing through old growth temperate rainforests, snowshoeing down to the bottom of a 50m waterfall, or snowshoeing in deep, untracked powder appeals to you, come to the Callaghan Valley. Located in the wilderness west of Whistler, this is the "real deal" when it comes to snowshoeing according to the Callaghan Country website. They say, "Challenge your personal navigation skills as you wind your way through the wilderness following modest 'route' flags. Rather than walking through a commercial snowshoe 'track', experience the more intimate nature of snowshoeing!"
If you want to turn snowshoeing into a full weekend adventure, Callaghan Country offers overnight guided tours where you spend the night in the Callaghan Country Backcountry Lodge. Of course, day tours are also an option. Dee Raffo, a Whistler-based writer, went on a trek with Whistler's Canadian Snowmobile Adventures on a tour called the "Medicine Trail". With a focus on local ecology and First Nations culture, he writes of his tour, "Luke [the guide] is a fountain of knowledge and as we move through the forest he points out trees, animal tracks, and goes through the history of the area. A bob cat trail winds in and out of our own foot falls, nocturnal by nature it must have caught Luke's scent when he went out to pack down the trail in the early morning." You can read the rest of his story here.
Callaghan Valley Tips:
3. Mount Seymour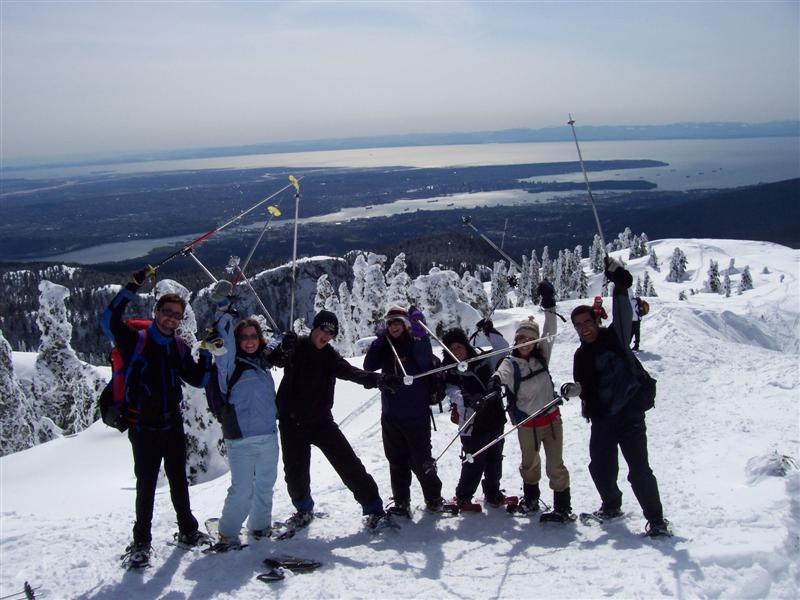 Photo: Hiking Club tackles Mount Seymour. Source: Hiking Club.
Snowshoeing at night on Mount Seymour is one of the most enchanting winter activities you can do within a 30 minute drive of downtown Vancouver. It's also a heck of a lot of fun. Tromp through the forested trails on your own or take one of their many guided specialty tours. A personal favourite of mine is their Evening Fondue Guided Tour, something I did with a group of friends back in February of 2008. Where else do you snowshoe up the mountain to a panoramic vista overlooking the city lights where your personal tour guide creates a candlelight "fire" and prepares fruit for a chocolate fondue? And the best part? When you're descending, you can use the steep snow-covered hillsides as slides. Memorable times indeed!
Now, I'm not the only one who feels this way. Local blogger Kim McMullen went on a snowshoeing trek to Mount Seymour this past New Year's Eve and was completely awed by the experience. She wrote, "An hour or so in, we trudged up a steep embankment and … arms outstretched, eyes wide, there it was. The most spectacular view of Vancouver and beyond. We could even see Mount Baker in Washington crisply in the distance. Suddenly, I felt totally, utterly alone. Not in the pathetic way. But in a peaceful way. I just stopped. Breathed. Looked. Felt goosebumpy. It was stunning." You can read the rest of her story here.
Mount Seymour Tips
2. Lightning Lakes
Photo: Lightning Lakes on January 2, 2012. Source: Vida Morkunas via Flickr.
I've only visited Lightning Lakes in the summer months, but I can only imagine how magical it looks when the landscape's all covered in snow. A true winter wonderland, you only have to look at the pictures to understand why many locals consider this alpine lake chain their favourite snowshoeing destination in the region.
Located an hour drive east of Hope in the middle of Manning Park, Lightning Lakes is far away but close enough to make an ideal weekend retreat for people who don't want to stray too far from the Lower Mainland. The snowshoeing rentals are managed by the Manning Park Resort – the only hotel accommodation in the provincial park. They write of Lightning Lakes, "This is an easy trail with no elevation change. The loop is 9km around the entire lake, or you can cross at Rainbow Bridge which cuts the trail in half. Trail starts at the Lightning Lake Day Use Area and is well used."
Bloggers Remi and Sarah visited Lightning Lakes last week with their dog Maggie. They write of their snowshoe trek, "It was amazing in the woods. All of the trees were snow-covered. It was cold enough to feel crisp and clean, but wasn't frigid. It was also calm, no wind or blowing snow." "We passed between these tall trees. I felt like I was in the Lord of the Rings!" You can read the rest of their story here.
Lightning Lakes Tips
1. Dakota Ridge

Photo: The Sunshine Coast's Dakota Ridge. Source: Kelly Funk via Sunshine Coast Tourism.
Have you ever driven along the Sea to Sky highway and looked across to that rugged mountain range on the other side of Howe Sound and thought to yourself, "I wonder what's over there?" Located within those mountains, dear reader, is Dakota Ridge – one of the most loved snowshoeing destinations on the entire Sunshine Coast.
As described by Sunshine Coast Trails, Dakota Ridge "is a beautiful, sub-alpine setting and includes some old growth forest. Peaking out at approximately 1200 metres, you will be treated to some beautiful views of the Coast Mountains, Vancouver Island and the Georgia Strait." Situated just outside of Sechelt, it's easily accessed by Vancouver via the 40 minute ferry to Langdale from Horseshoe Bay.
Sunshine Coast Tourism recommends visiting Dakota Ridge during the full moon. They write, "Strap on the headlamp and explore the forest in a whole new way. There are even guided starlight snowshoe tours which can be arranged from various accommodation packages and Alpha Adventures". Want to make a whole weekend out of it? Arcturus Retreat B&B have partnered with Alpha Adventures to create a Starlight Snowshoe & Fondue Tour. They write, "Imagine coming home to the hot tub and enjoying a brilliant sky even longer."
When we inquired further on the Dakota Ridge Facebook Page about visiting at night, Dakota Ridge fan Bill Crawford gave us some valuable advice. He said, "If you go up at night, [it's] best to go in a group [and it's] best to have 2 vehicles well equipped. You do not want to be left up overnight. Some people have had to walk out when there 4×4 got stuck."
And although there isn't any nighttime infrastructure such as flood lights, Dakota Ridge themselves told us people go there at night all the time. They explain, "There is no official closing time. People do go up at night, especially nights like tonight with 'almost full' moons. Headlamps are suggested. The road can also be slippery in the nights so 4-wheel drive with chains recommended." Dakota Ridge fan Ron Skene told us, "The views at night are awesome… lights on Cypress, Vancouver & the island. Oh, and if you time it for moonrise over the Lions from the Mistletoe Lookout = major bonus!!"
Dakota Ridge Tips
Note: There have been many avalanche warnings in the back country of British Columbia throughout the months of December and January. If you intend to go snowshoeing in the back country, Canadian Avalanche Centre's latest reports on their website for up-to-date information on avalanche alerts: www.avalanche.ca/cac/bulletins/latest.